In this article, we will be discussing everything related to Shopify templates and presenting examples of websites created with Shopify. It's worth noting that we will balance the discussion by covering both free and paid templates, so this article will be useful if you're looking for an economical template.
Examples of online stores with Shopify
What are the best templates for Shopify?
1. Minimal
This template is perfect for a quick website launch, including features like in-store pickup, product recommendations to customers, and stock counter. It boasts a minimalist design with basic colors such as white and black.
2. Simple
This template features a hamburger-style side menu to enhance responsiveness. It includes product image zoom, animations for these images, and product recommendations.
3. Debut
This template is focused on beauty products and is one of the most feature-rich and comprehensive free templates on Shopify. It includes in-store pickup, predictive search, customer reviews, product filtering, etc.
4. Supply
This template is ideal if your store has a large number of products. Supply includes a product filtering sidebar, an image slider for your homepage, and featured product collections on the front page.
5. Debutify
Debutify comes with more advanced options, such as the ability to add a customizable footer or product testimonials, as well as advanced product filters and a featured image slider.
-Paid templates
This template is perfect for physical retail stores or businesses with age-restricted products. It includes features like quick buy, in-store pickup, promotions, product videos, etc. In total, it offers more than 30 unique functions. The cost of this template is €244.
2. Warehouse
The Warehouse template is specifically designed for dropshippers or stores looking to include popular "flash" offers. It includes order tracking, enhanced product search, and an advanced fixed-style header. The cost of this template is €262.
3. Porto
The Porto Shopify theme is not just a Shopify theme but a powerful package that has everything for your Shopify store. It has all the necessary tools and features to create a responsive website with an excellent user interface and user experience. With over 20 responsive demos, layouts, and styles, you can build your own modern Shopify store. The cost of this template is €99.
4. Roxxe
Roxxe is an innovative and flexible Shopify theme that will be an excellent web solution for any online business. This template is an all-in-one solution for creating the perfect online store for any business. The cost of this template is €59.
5. Kalles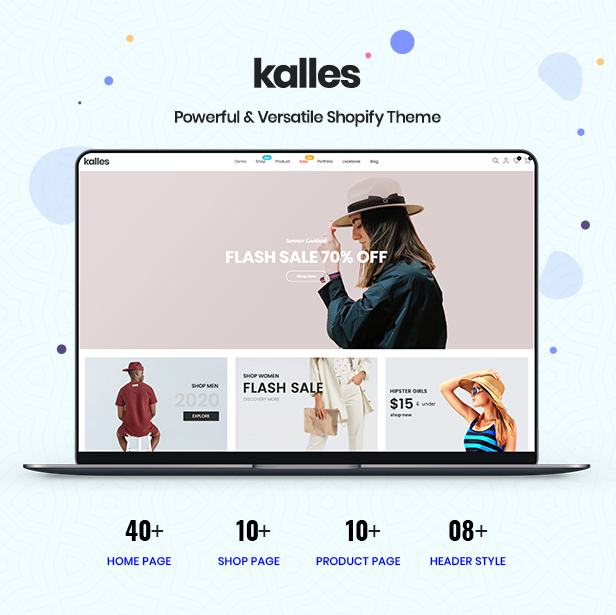 alles includes more than fifteen specially designed demos, each packed with excellent features and eye-catching style. With a one-click installation, you can easily import your demo, then add and publish your content in minutes. The cost of this template is €89.